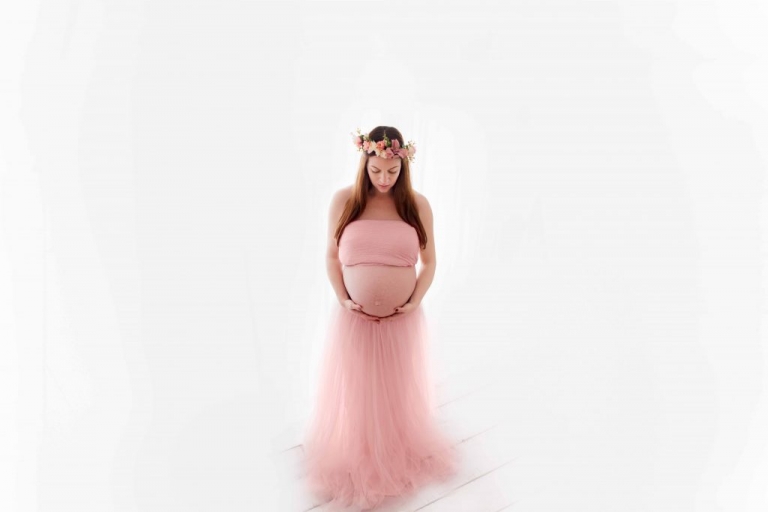 During this time I am encouraging these sessions to take place outdoors where we can be more relaxed.
Why do a bump photoshoot?

My maternity sessions are a relaxed style and simply focus on capturing the developing bond between you and your baby. I am happy to also include your partner and and older siblings in the session, just let me know when you book in so we can plan accordingly.
I usually shoot bump sessions when you are between 32-36 weeks pregnant, so that your bump is nice and round but not too close to your due date.​
What should I wear?
I keep it pretty relaxed in the studio and the most important thing is that you are comfortable. I recommend a nice neutral top and maternity jeans as a good starting point. In my studio I have my maternity tutu and matching wraps for you to use if you would like. Stripping down is not everyones cup of tea (it was definitley not mine when I was pregnant!) But for some of you super confident mums it is and its amazing! We can chat that through before your session.
Should we both/all come along?
Absolutely! Family images are so important and I offer these to all of my clients.
Can anyone else come along to the session?
I prefer to have just parents and siblings attend the session. If your partner is not able to come along to the session please do feel free to bring someone along if you'd rather not do it alone! We have a comfy sofa they can sit on to keep you company.
How will my images be edited?
I get asked this A LOT with this session. The answer is that they will be edited acording to your wishes. Having had to babies of my own, there isn't much I haven't seen or got of my own. Some ladies choose very light editing (which is what I would do anyway) while some prefer stretchmarks etc to be toned down if its something that worries you. Please feel free to discuss this with me at any point and DEFINITLEY do not let it put you off capturing this moment.

What happens after the session?
After your session I know you will both be very excited to see your images. So I will aim to schedule your viewing session for around 7-10 days after your shoot. During this viewing session you will be able to view your edited images and decide on your images. We will also chat about wall art, albums and prints. Minimum purchase is your chosen digital package.
What are the costs?
Your booking fee is £49. Your booking fee secures your space in the diary, guarantees a session with me and is deducted from your chosen package at your viewing session.
What are the basic packages?
Package one –5 digital images £149 (less £49 paid on booking)
Package two – all digital images from your edited gallery £199 (less £49 paid on booking)
I offer a gorgeous range of printed products including frames and albums. Please view my product page for more details.