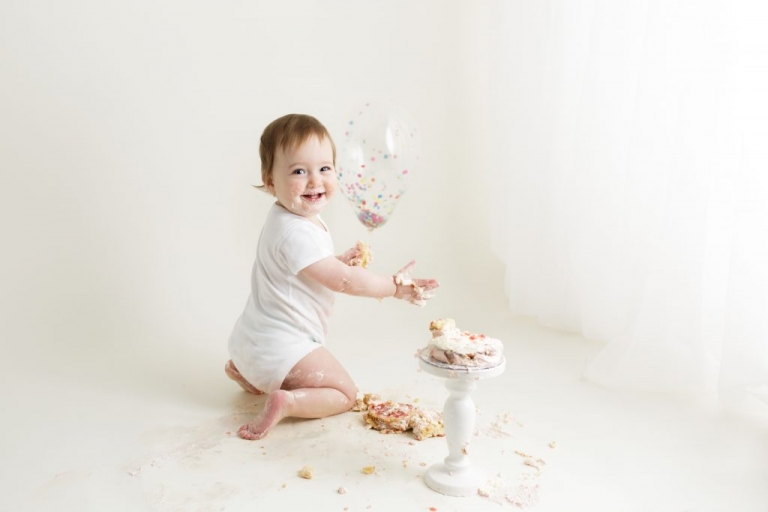 cake smash Peterborough
Why Choose a Cake Smash Session?
A cake smash is a wonderful and fun way to celebrate that all important first birthday milestone. Its fun for parents as well as baby! We will capture some beautiful clean portraits of your baby as well as some cute messy cake pictures. I also offer family images as part of all my sessions – its so important to be in these photos with your baby.
When should I book in?
I normally advise for you to schedule your babies cake smash session for when they are around 11 months old – this will enable you to have your images ready to share with family and friends on the very first birthday (and they will make an amazing thank you card!) This means you will need to make sure you are booked in nice and early as my diary is often booked 3-4 weeks in advance. Lots of you book around 9-10 months to capture this important milestone.
What if my baby has allergies?
Please don't worry, we will send out a questionnaire to gather all of this information to be passed on to our wonderful baker who is very experienced in provided gorgeous cakes according to dietary requirements.
What to expect at your session.
Your cake smash session will last approximately 1-1.5hours and will take place in my Peterborough studio. All aspects of your cake smash session will be beautifully organised by me (and I'll clean up afterwards too!) My cake smash sessions are simply and classically styled to allow your baby to take centre stage. We can add in some little pops of colour with some balloon and/or bunting.
There are four aspects to your cake smash session –
One – Some clean portraits of your baby without the cake (and the mess!)
Two – The smash! Some babies really get stuck in here and it is so fun to watch (and to help! their cake won't just look great, it will taste great too!) I really recommend introducing your baby to cake and buttercream in advance, why not give them a trial run with a cupcake?!
Three – The bath – we don't need to go home dirty now do we?! Babies usually love this part the best, so expect huge smiles and lots of splashing! so expect huge smiles and lots of splashing!
Four – Some family images. It is SO important to be present in images for your children as they will cherish these in years to come.
What do you need to bring?
I have everything covered for your session. Please bring along your change bag with all your essentials, a drink for baby (its thirsty work eating cake!) their usual bubble bath and a towel.
Should we all come along?
Yes definitely! Its important to capture some family images and also images with baby's siblings.
What happens after the session?
After your session I know you will both be very excited to see your images. I will aim to schedule your viewing session for around 2 weeks after your shoot. During this viewing session you will be able to view your edited images and decide on your digital package. We will also chat about wall art, albums and prints. Minimum purchase is your chosen digital package.
How will my images be edited?
Your images will be polished to a professional standard. I will remove any flakey areas and any little blemishes as standard.
What are the costs?
Your booking fee is £49 on a weekday – there is an additional charge of £25 for all Saturday sessions – the studio is closed on Sundays. Your booking fee secures your space in the diary and is deducted from your chosen package at your viewing session.
What are the basic packages?
Package one – 5 digital images £249 (less £49 paid on booking)
Package two – all digital images £349 (less £49 paid on booking)
I offer a gorgeous range of printed products including frames and albums. Please view my product page for more details.
Peterborough newborn photographer, newborn photography Peterborough, newborn photography, photographer Peterborough, maternity photography Peterborough, bump photography Peterborough, bump photographer Peterborough, baby photography Peterborough, baby photographer Peterborough