baby photos Peterborough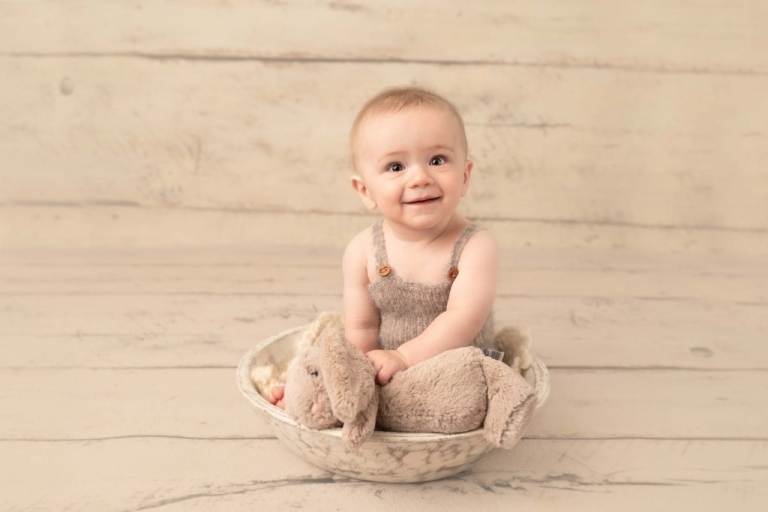 Why choose a Little Sitter milestone session?
This age around 6-8 months is usually when your baby starts to sit up unaided – they have often cut their first tooth too! Its an adorable time to capture in one of my older baby photography sessions in my Peterborough studio. Gummy smiles and that little personality is really starting to shine through at this stage.
When is best to book in?
This session can book booked in as soon as your baby is starting to be able to sit – my diary is usually booked 3-4 weeks in advance which will give your baby chance to perfect the art of sitting unaided.
What should I bring?
Please bring along your change bag essentials as you normally would. Please bring your baby's favourite outfit that fits well (nothing too loose or too tight) whilst being mindful of colours etc. I advise a fairly neutral colour palette and plain designs as these will not date your images – so no prints/logos etc. I have plenty of little outfits in the studio too.
what can I expect in the studio?
All of my baby photography sessions take place in my lovely Peterborough studio where I have access to a range of props and set ups to enhance your session. Your sitter session will last around 45 minutes (a bit shorter as baby's attention span is quite limited at this stage and they often become bored quickly, so we aim to get through as quickly as we can)
should we both/all come along?
Absolutely! I would love to be able to capture some image of you all together at the end of your session. I believe that having those family photos is so important.
Can anyone else come along to the session?
I prefer to have just parents and siblings attend the session, so that we have less distractions.
what happens after the session?
After your session I know you will both be very excited to see your images. So I will aim to schedule your viewing session for around 2 weeks after your shoot. During this viewing session you will be able to view your edited images and decide on your digital package. We will also chat about wall art, albums and prints. Minimum purchase is your chosen digital package.
how will my images be edited?
Your images will be polished to a professional standard. So I will remove large flakey areas and any little blemishes as standard, my preference is the maintain your baby's true skin tone and natural beauty.
what are the costs?
Your booking fee is £49 on a weekday – there is an additional charge of £25 for Saturday sessions – the studio is closed on Sundays. Your booking fee is £99. Your booking fee secures your space in the diary, guarantees a session with me and is deducted from your chosen package at your viewing session.
what are the basic packages?
Package one – 5 digital images £249 (less £49 paid on booking)
Package two – all digital images £349 (less £49 paid on booking)
I offer a gorgeous range of printed products including frames and albums. Please view my product page for more details.
Peterborough newborn photographer, newborn photography Peterborough, newborn photography, photographer Peterborough, maternity photography Peterborough, bump photography Peterborough, bump photographer Peterborough, baby photography Peterborough, baby photographer Peterborough