Cake Smash Photography Peterborough
Huntingdon Cake Smash Photographer
This photoshoot is the perfect way to celebrate that all important first birthday. Your shoot will be the perfect opportunity for the family to come together, have fun and update your family portrait.
Thank you so much for your interest in a cake smash session with me. I am really looking forward to working with you to create some beautiful, fun images of your baby and family.
SO IMPRESSED
I honestly can't recommend Sarah enough. We had our little boys cake smash for his 1st birthday with her today and I am so impressed. She was amazing with our baby, very professional, the studio was so clean and we were made to feel really comfortable. She had a huge choice of props and the cake and set up were beautiful. We will definitely be returning for all of our future photos and we would recommend her to anyone. Thank you so much xx
Abbie Ortiz
All cake smash photography sessions take place at our Huntingdon studio.
We will always start the session by capturing you all together, as well as with baby's siblings (if they have them yet!) So we can get a wonderful update on your family portrait.
I like to try to capture some images of any older siblings at this time, so that they feel just as loved and included on their baby siblings big day.
Then its on to the main event – the smash! Every baby reacts differently to being let loose on their cake. Some proceed carefully and with caution, while others just go wild and get stuck right in. Sometimes face first! They will taste the sweet icing, dig around for cake. Its a wonderful sensory experience for them – just like messy play but on camera!
Of course, I'd never let you take baby home all covered in cake! We will finish your session with a nice warm bubble soak in my mini roll top bath. While this is obviously a great opportunity to clean baby up, its also more fun and more on camera smiles. The bubble bath never fails, and sometimes the biggest smiles emerge as they are having a good old splash about.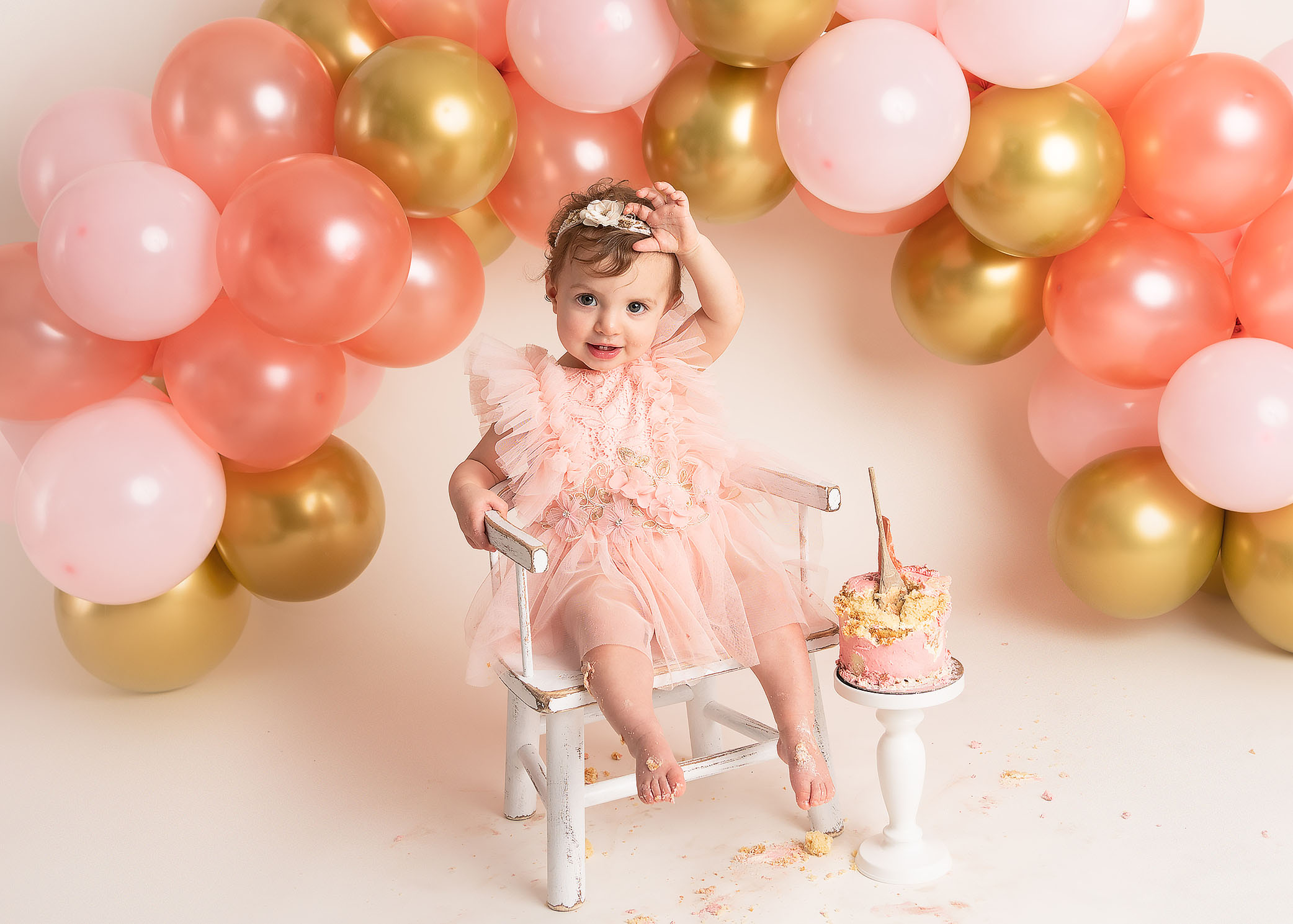 Personal consultation to discuss your needs and preferences
Up to 1.5 hours shooting time in the studio
Full use of my props and accessories
Private viewing session
All your digital high resolution images on a USB, complete with a print release
A matching set of professional prints
Facebook timeline cover
Beautiful slideshow of your images to share with friends and family
£50 wall art credit
£50 off your family session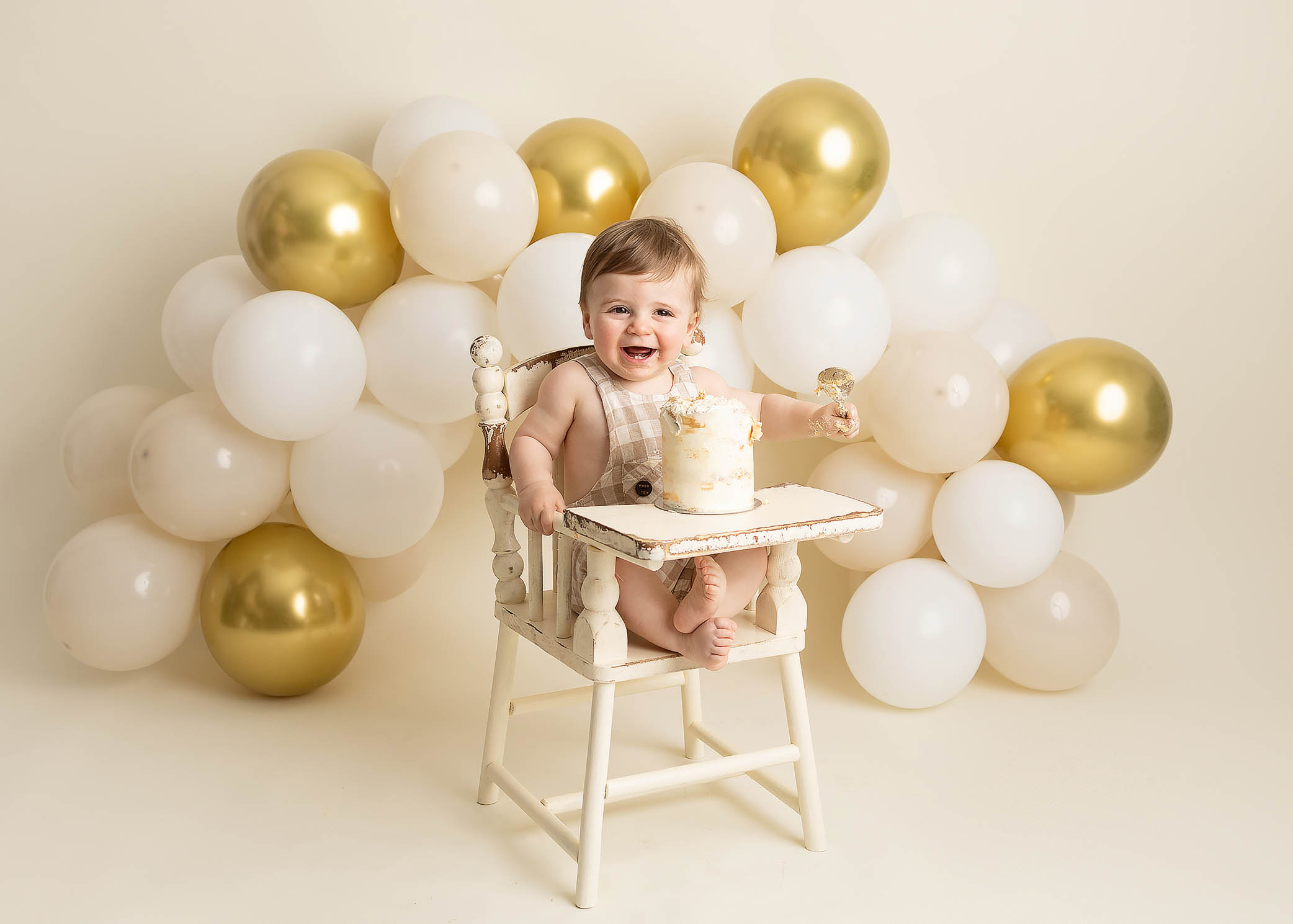 Personal consultation to discuss your needs and preferences
Up to 1.5 hours shooting time in the studio
Full use of my props and accessories
Private viewing session in which to select your images
5 digital high resolution images of your choice, complete with a print release
BEAUTIFUL IMAGES
Sarah is a very talented photography, she knows her craft inside and out and paired with her creativity and attention to detail she creates stunningly beautiful images. We visited with our baby boy Jude when he was 5 days old and our 2 and a half year old son, both boys were hard work (Jude didn't want to sleep) but Sarah worked tirelessly and we ended up with a collection of stunning photographs.
Sarah Steels
I work with an award winning UK lab to bring you the very best in wall art products and albums.
GREAT CALMING EFFECT
Sarah did a new born photo shoot for my baby Arya and wow the studio is amazing Sarah has a truly amazing talent and works her magic . She is kind and patient and has a great calming effect on baby's infant baby Arya settled in to a deep sleep in Sarah's arms ! Not to mention Sarah's endless props there all so beautiful. Overall a stress free beautiful experience thank you
DANIELLE MILLER
On booking in you'll pay £99, this will secure your session and allow me to pay my baker for your smash cake. The £99 paid on booking is deductible from your chosen package.
You do not need to commit to a package on booking – although most of my clients do choose to purchase all of their images.
You will be invited back to the studio approximately 2 weeks after your session to view your final images and select your package and wall art. Its a great idea to measure your wall space in advance so you can make informed choices at your viewing. I will be on hand to help with product and size choices and to make the process as easy as possible.
If you do not wish to purchase a package you do not have to. If you would prefer to order a few select images rather than a package, there is a minimum spend of £299.
Whats so good about our cake smashes?
Our cake smashes are a really popular and fun session. You'll all come together as a family to celebrate baby's first birthday. Our setups are simple and timeless, with the main focus being on your beautiful baby. You'll be provided with a beautifully baked cake from my local baker – Gina.
As with all our sessions, we will chat beforehand to discuss your preferences.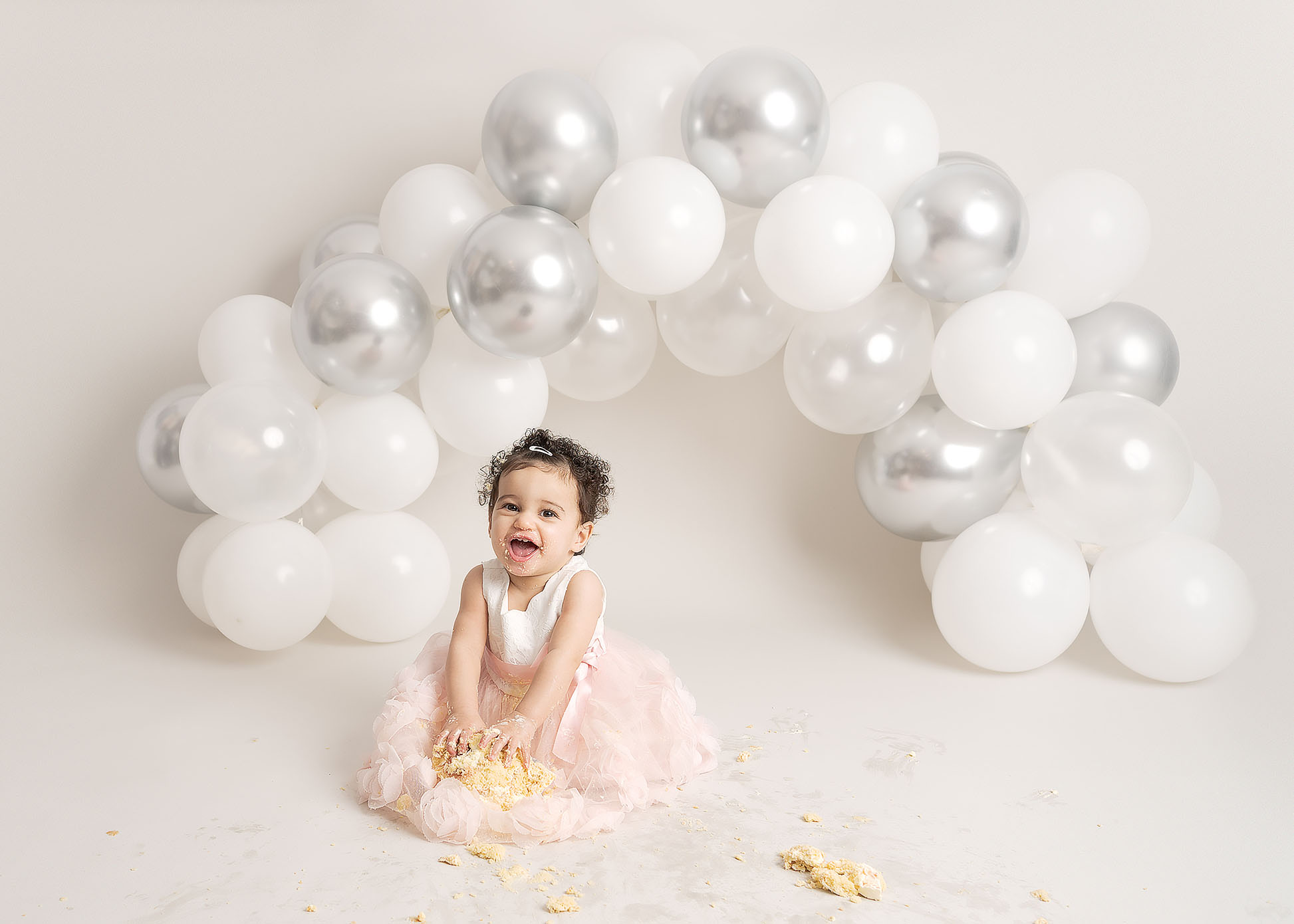 Or if you do have any questions at all before booking, please do feel free to give us a call on 07546 259981.